June 3, 2020
BLACK LIVES MATTER
A LETTER FROM CO-FOUNDER ELIZABETH THOMAS JAMES


This has been a tough week.

I've struggled to wrap my head around all that is happening, and struggled even more to find the words to express all that is swirling through my mind, body, and soul.

The images are harrowing, yet I can't stop watching and reading the news. Yes, there are moments of hope – the police chief in Flynt, MI taking off his gear and marching with protestors, police officers kneeling with protestors, a line of black men protecting a white police officer who was separated from his contingent, protestors taking a stand to stop other protestors from looting stores. But the problem at hand is so endemic, it will take more than just a handful of moments to make real change.

As a white woman, I know that I am privileged. I acknowledge that I can walk out of my house without fear, I can go into a store without being watched like a hound, I can drive by police knowing that I won't be targeted.

I am married to a person of color, and soon hope to have children who will be people of color. I have listened to my husband's experiences of racism throughout his life, and witnessed a small glimpse myself when he and I were pulled over by a police officer in Iowa for "going 1 mph over the speed limit" (read: he didn't like that my husband was black, and driving a car with a white female passenger). The cop even asked me "are you ok, ma'am?" I was flabbergasted, then overwhelmed with disgust and rage, and there was nothing I could do about it.

All that is to say – that must be a fraction of how people of color in our society feel all day, every day.

It is heartbreaking, and wrong, and unjust, and it has to end. Change needs to happen, and we cannot stop until it does.

Below are some tools to help us all on this path to change. This is by no means all encompassing, and I am by no means claiming authority here, but it's a place to start, and we all have to start somewhere.

We here at Taylor + Thomas stand with the Black community and everyone who has been speaking out against discrimination, injustice and hate - now and always.

It's time to create a kind and just society, together.
We all have a role to play.
Let's get to it.


DONATE IF YOU CAN:

Black Lives Matter

ACLU

NAACP

Action Bail Fund
Black Lives Matter has asked organizers with White People For Black Lives to set up and administer a fund for legal and medical needs during this time.

Fair Fight
An organization whose mission is to end voter suppression and elect more progressive voices to public office.


VOTE

There are many upcoming elections in which we can make a difference – and not just for President.
As Barack Obama says: Elected officials who matter most in reforming police departments and the criminal justice system work at the state and local levels.

Click HERE to see a list of Black candidates who are running for office, and be sure to cast your vote.

Contact 866ourvote.org for equal voting rights and if you need help or are having trouble casting your vote.


READ, WATCH, & LISTEN

Click HERE to access a list of Anti-Racism Resources to read, watch, and listen to.


Share:
March 23, 2020
COVID-19
Anxious, worried, bored, antsy - all the emotions are real right now.

As we as a community - and world - cope with this novel virus and adjust to a new way of life, the most important thing is to stay safe, stay healthy, stay kind, and stay informed.

If you're like me, you're getting news alerts on your phone every five seconds with the latest on the coronavirus. But, in case you don't, here is a link to the CDC website with information you should know: https://www.cdc.gov/coronavirus/2019-ncov/index.html

We want to assure you that we are working from home, staying home, and washing our hands incessantly. We are also supporting our local small businesses, by ordering online and continuing to support on social media. We urge you to do the same!

Please note that we are still fulfilling orders, so if you need some retail therapy, we are here for you. ;)

I want to share this beautiful poem I came across the other day which really resonated with me.

Sending all our love out into the world.
xx Liz & Jess

Lockdown.

Yes there is fear.
Yes there is isolation.
Yes there is panic buying.
Yes there is sickness.
Yes there is even death.
But,
They say that in Wuhan after so many years of noise
You can hear the birds again.
They say that after just a few weeks of quiet
The sky is no longer thick with fumes
But blue and grey and clear.
They say that in the streets of Assisi
People are singing to each other
Across the empty squares,
Keeping their windows open
So that those who are alone
May hear the sounds of family around them.
They say that a hotel in the west of Ireland
Is offering free meals and delivery to the housebound.
Today a young woman I know
Is busy spreading fliers with her number through the neighborhood
So that the elders may have someone to call on.
Today churches, synagogues, mosques and temples
Are preparing to welcome
And shelter the homeless, the sick, the weary.
All over the world people are slowing down and reflecting.
All over the world people are waking up to a new reality,
To how big we really are.
To how little control we have.
To what really matters.
To Love.
So we pray and we remember that
Yes there is fear.
But there does not have to be hate.
Yes there is isolation.
But there does not have to be loneliness.
Yes there is panic buying.
But there does not have to be meanness.
Yes there is sickness.
But there does not have to be disease of the soul.
Yes there is even death.
But there can always be a rebirth of love.
Wake to the choices you make as to how to live now.
Today, breathe.
Listen.
Behind the factory noises of your panic
The birds are singing again,
The sky is clearing,
Spring is coming,
And we are encompassed by Love.
Open the windows of your soul
And though you may not be able
To touch across the empty square,
Sing.

-- Fr. Richard Hendrick
Share:
August 27th, 2019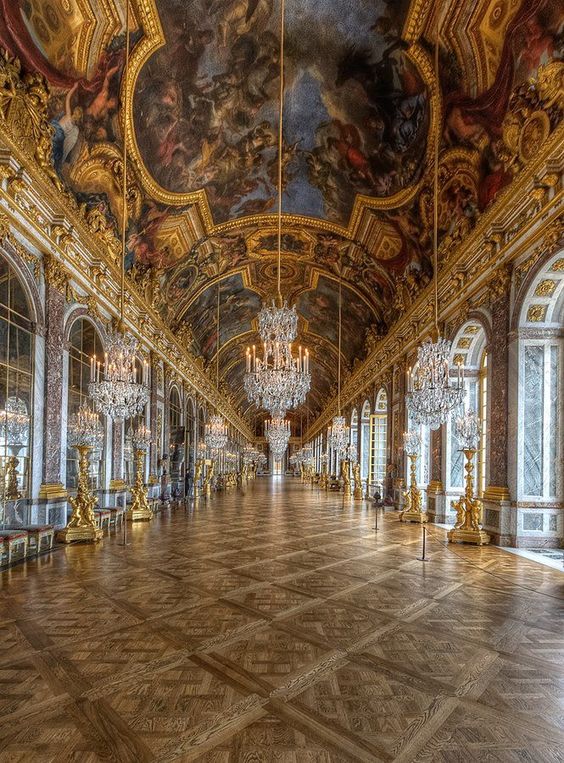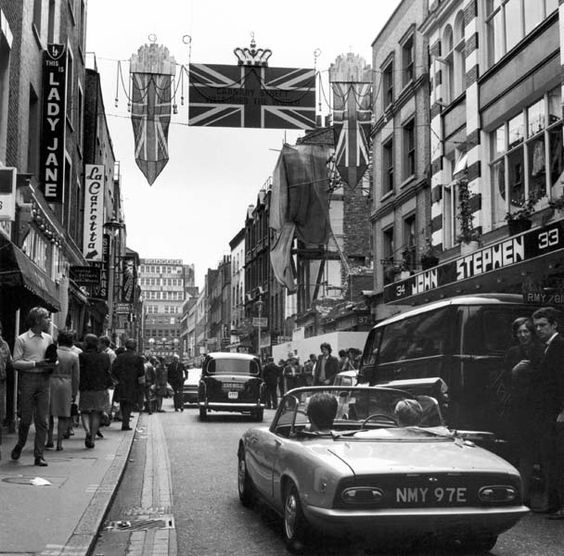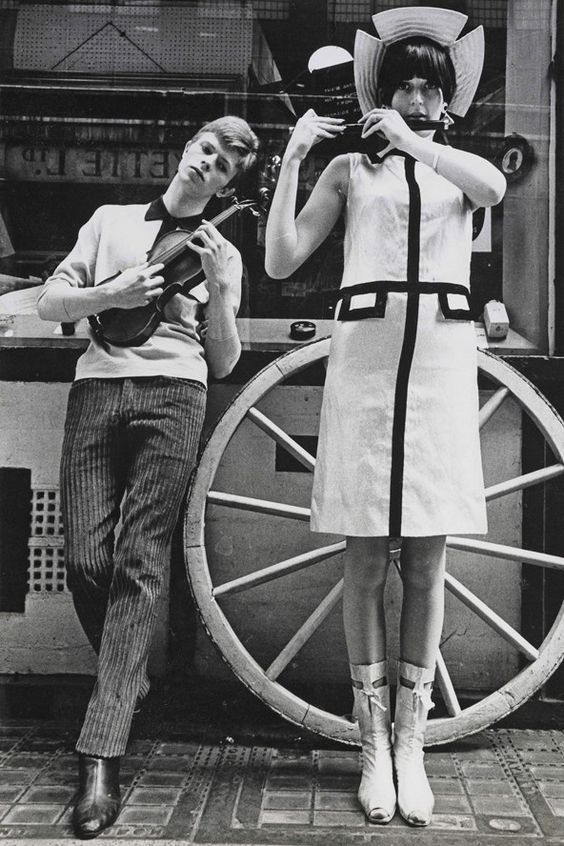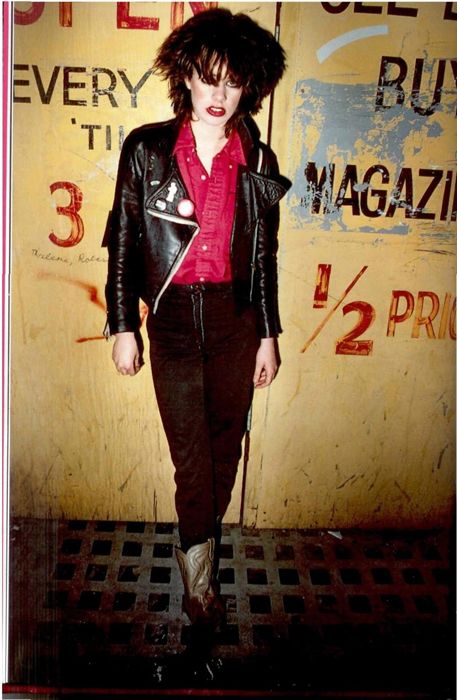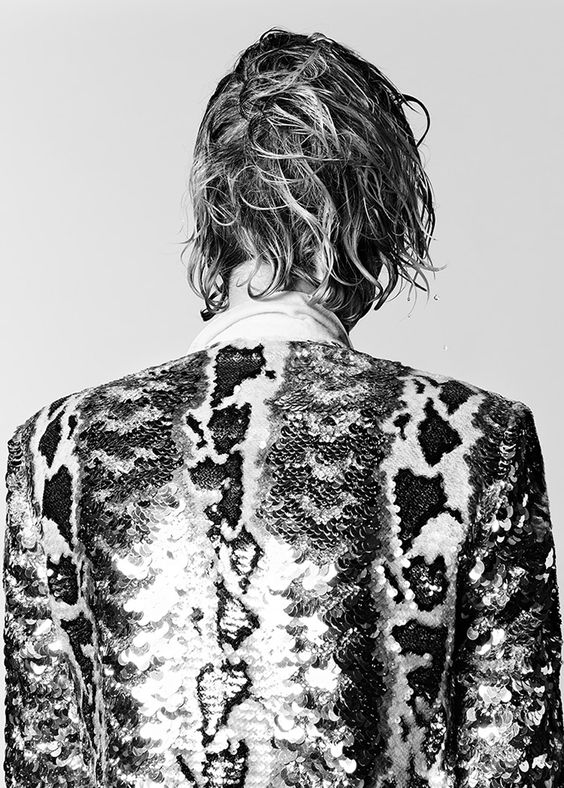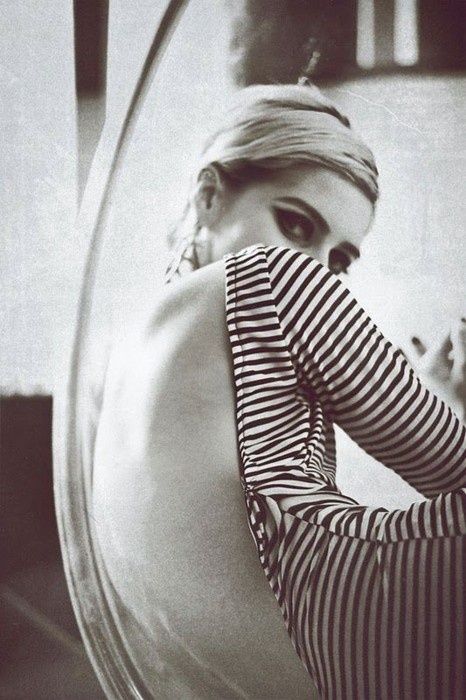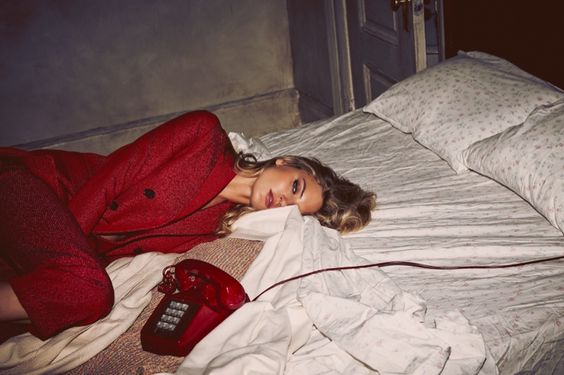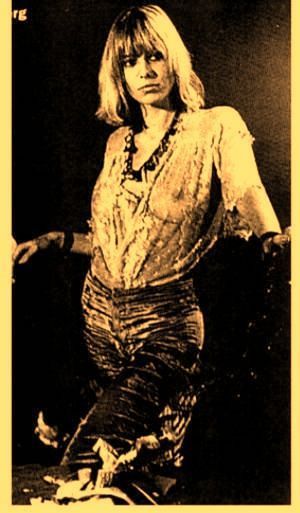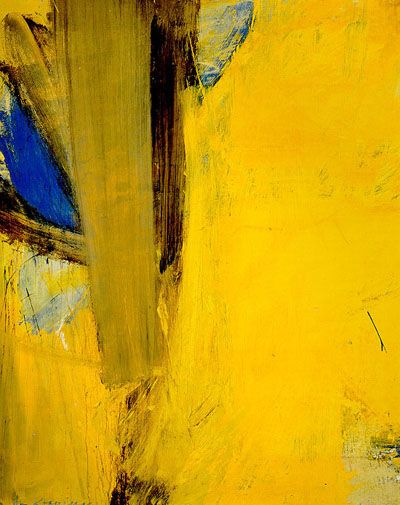 Autumn/Winter 2019: LOUIS IN LONDON
It's a chilly autumn afternoon on Carnaby Street in London, the swinging 60s in full effect, music of psychedelia and rock'n'roll streaming from cafes and boutiques as women dressed in miniskirts, loafers, and square-toed ankle boots fill the scene with an air of modernity.
On the other side of town, an underground movement - which would later be known as punk - was beginning to grow. Heavy hardware, zippers, straps, chains and pointed toe boots were being set against a noir canvas of black leather and ripped shirts.
It is at the juxtaposition of these two subcultures that we find our muse - King Louis XIV. A time-traveller, bored with the opulence of Versailles, spending his days on Carnaby Street with the mods and his nights off Kings Road with the punks, seamlessly riding the divide of time, culture, and style.
This is the collection we were inspired to create - a little bit Louis, a little bit mod, a little bit punk - with a color palette informed by a portrait of (Kate Moss as) Eve. Feminine, bold, daring, powerful.
Share:
January 15, 2019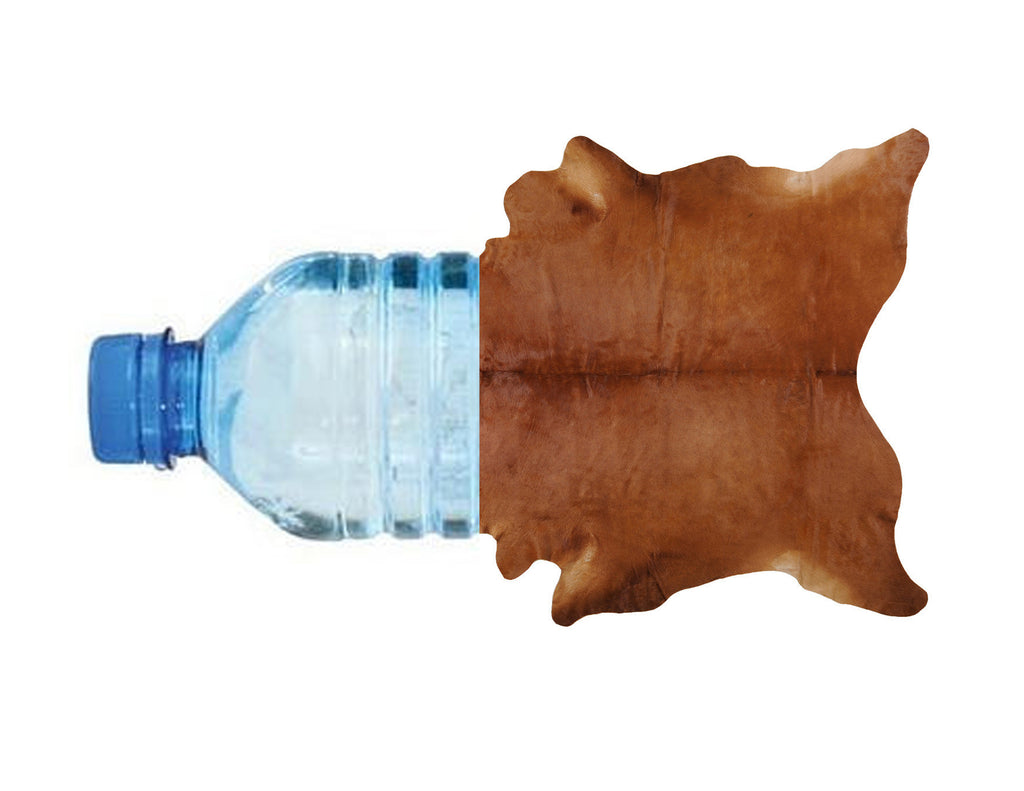 PLASTIC VS LEATHER - SUSTAINABILITY IN FASHION
We founded this company at an interesting time in the fashion industry. A massive study called Pulse of the Fashion Industry was released in May 2017, which coincided with the Copenhagen Fashion Summit, and unleashed some serious wake up calls. The report gave a failing grade of sustainability to the fashion industry (32 out of 100). The main problem: raw materials. And by far the most polluting raw material: leather.
We started working on a Journal entry to address the common misperception that synthetic leathers (made from plastic) are worse for the environment than leather.
But we read this article by The Discerning Brute (Joshua Katcher), and realized we couldn't say it any better.
Here are a few of the best bits, and please, please click on this link to read the full article:
https://www.thediscerningbrute.com/home/2018/6/9/sea-change-why-fashion-should-focus-on-leather-more-than-plastic
Livestock constitute the single greatest source of greenhouse gas emissions, including methane, an extremely potent GHG.
So much leather is made every year (7.2 million tons) that it would equal the weight of 20 Empire state buildings. And then we have to consider the 2.2 billion tons of tanning chemicals that enter waterways every year - equivalent to the weight of the entire human population - wreaking havoc on ecosystems and communities who live near tanneries.
From a standpoint of biodiversity, livestock production is still the predominant driver of forest loss worldwide, threatening biodiversity and ecological process and driving greenhouse gas emissions.
The production of leather is not even close to being free of fossil fuels, which typically go directly into making plastics… It requires far less oil to make PU leather directly, than cycling it through corn and then an animal's body to then arrive at one single hide. Then the tanning and finishing process commonly involves all sorts of synthetics and plastics like syntans, acrylic resins and lacquers, polyurethane resins and lacquers, and vinyls like butadiene.
Plastic microfibers and plastic debris aren't the only things killing the sea. Runoff from factory farms (the places where leather comes from) are responsible for enormous ocean dead zones… Pair that with the fact that a whopping 46% of ocean plastic debris actually comes from "enormous discarded fishing nets", making the devastation of the seafood industry far worse, especially for fish who, we now know with certainty, can feel pain.
Share:
November 20, 2018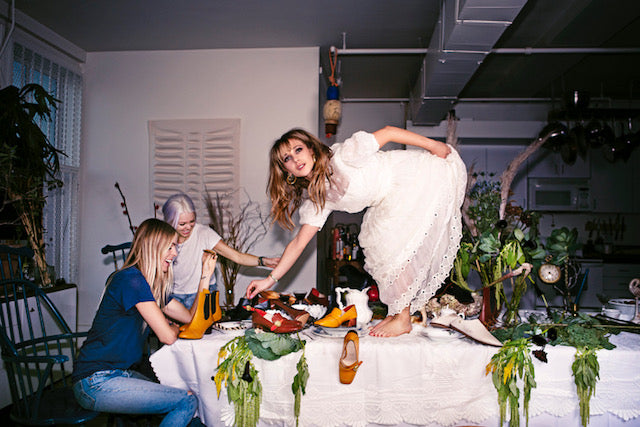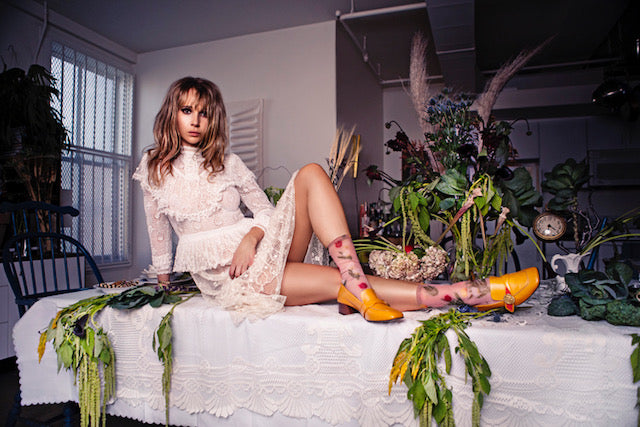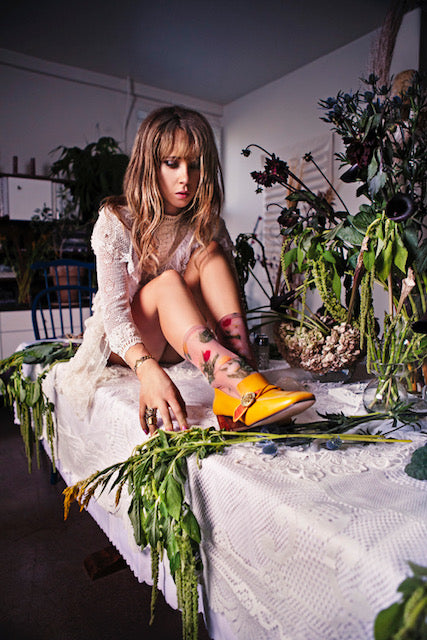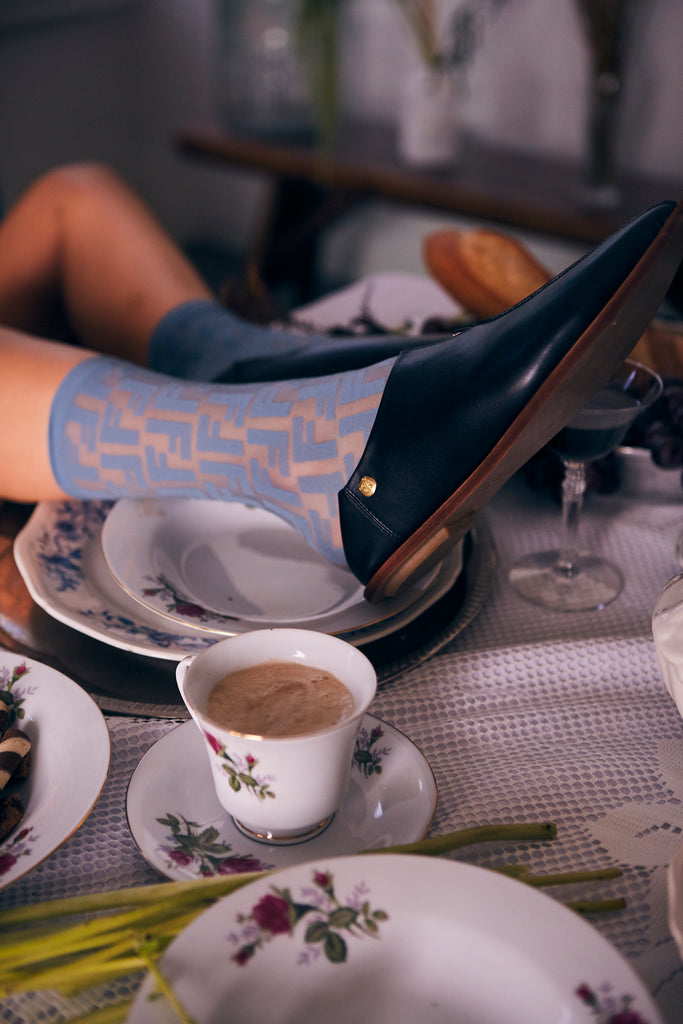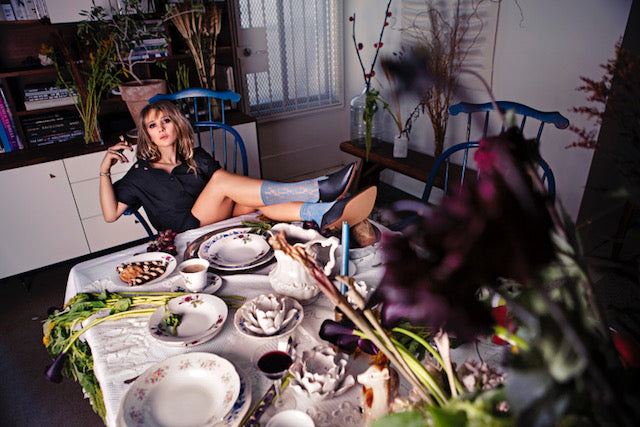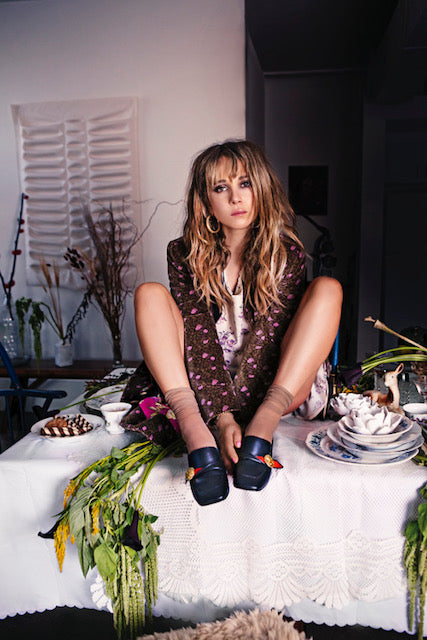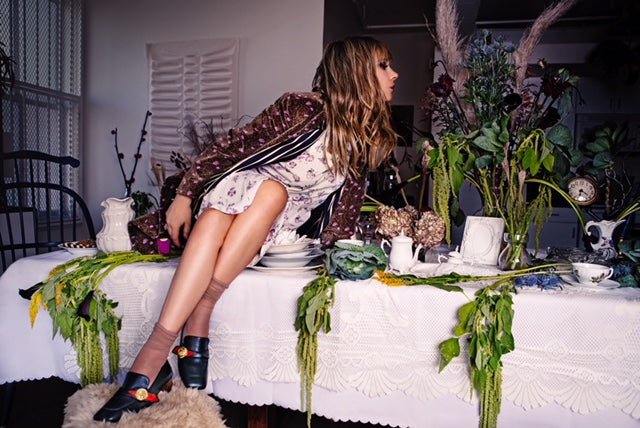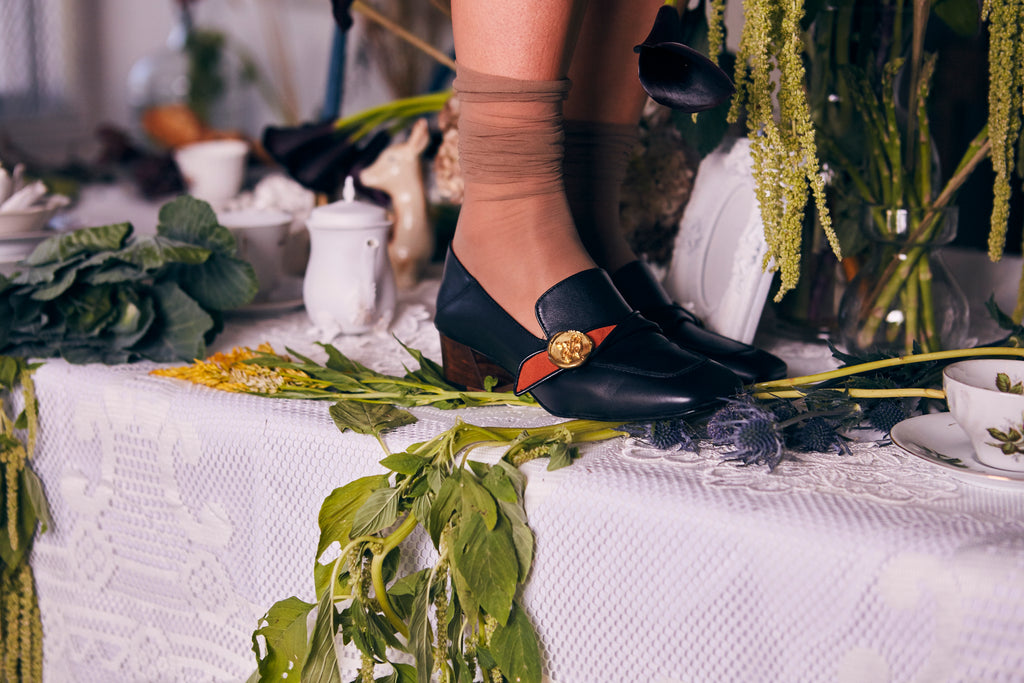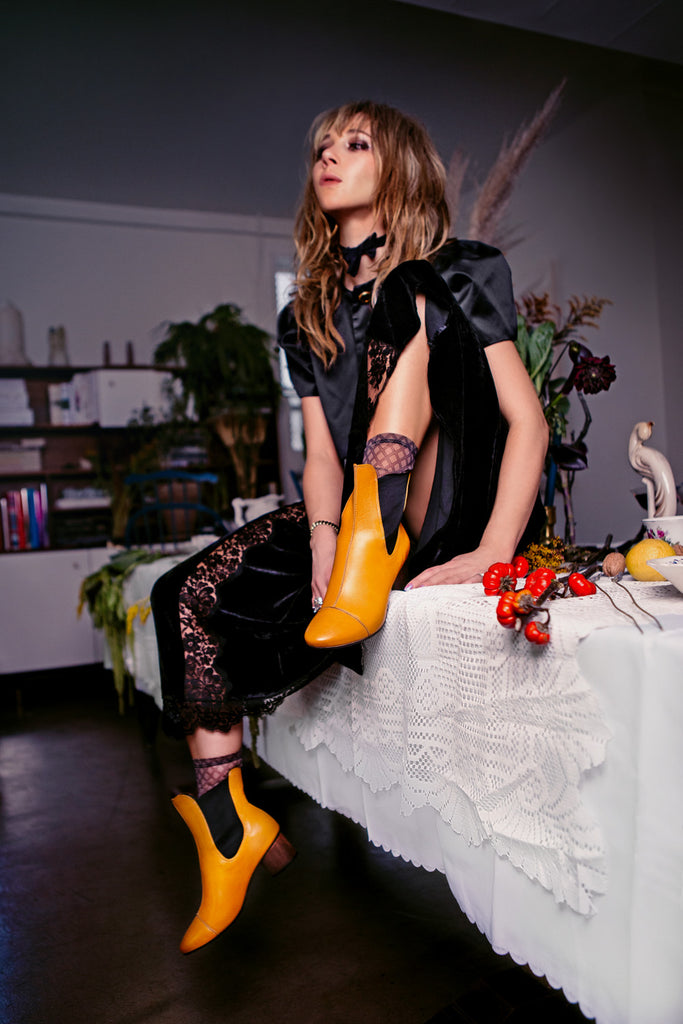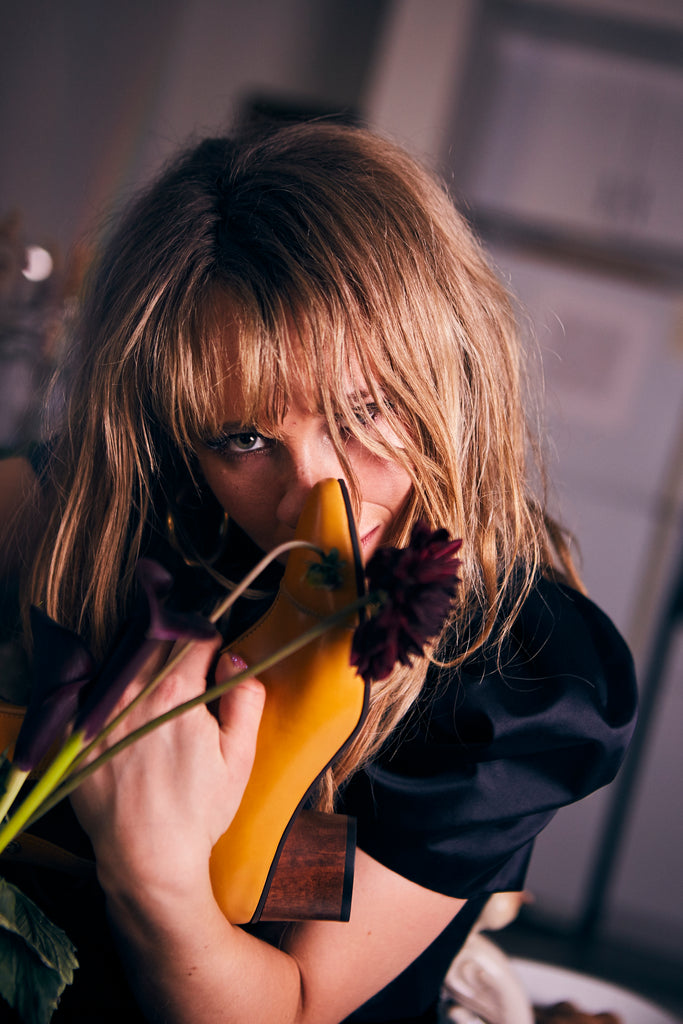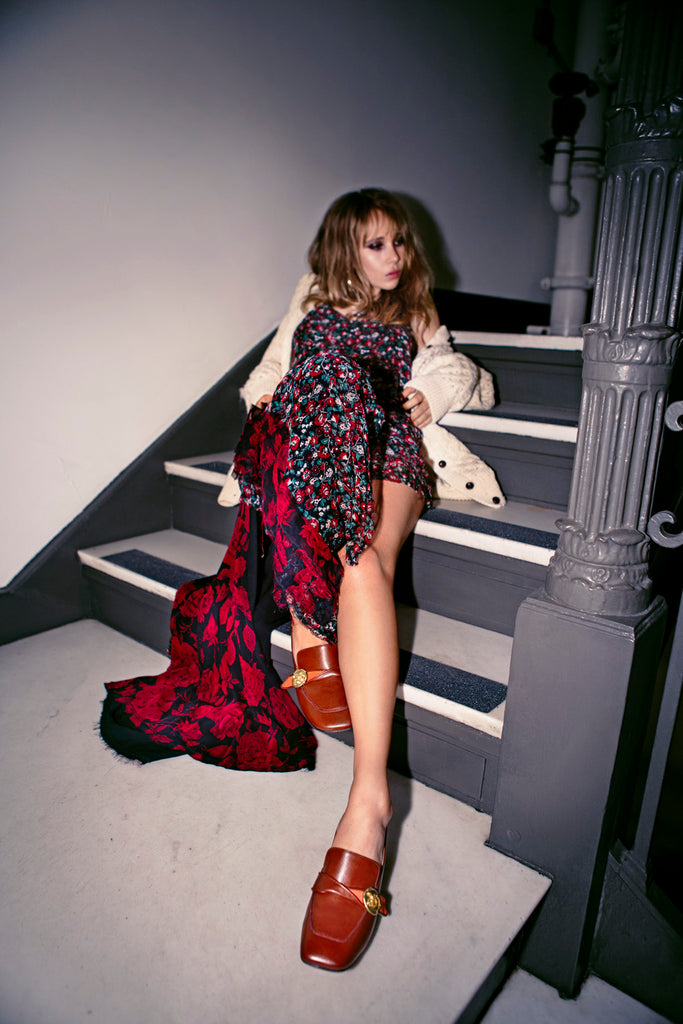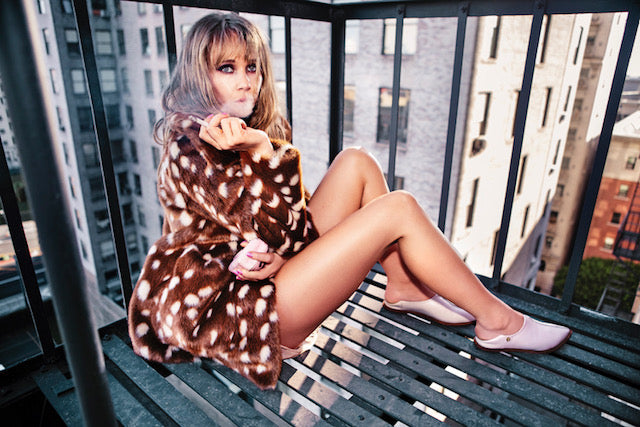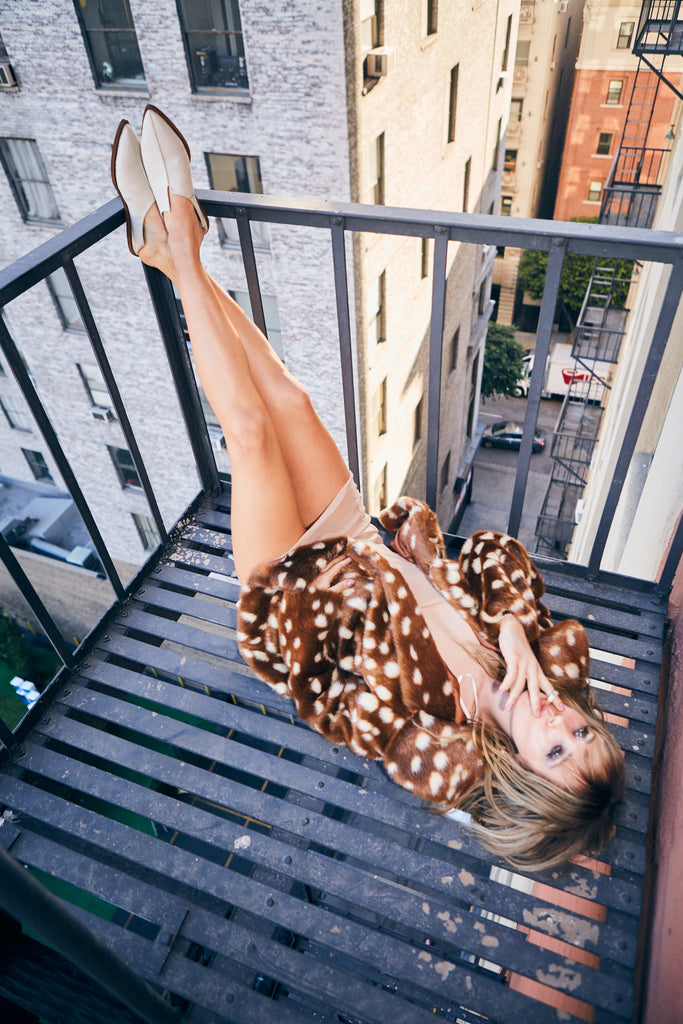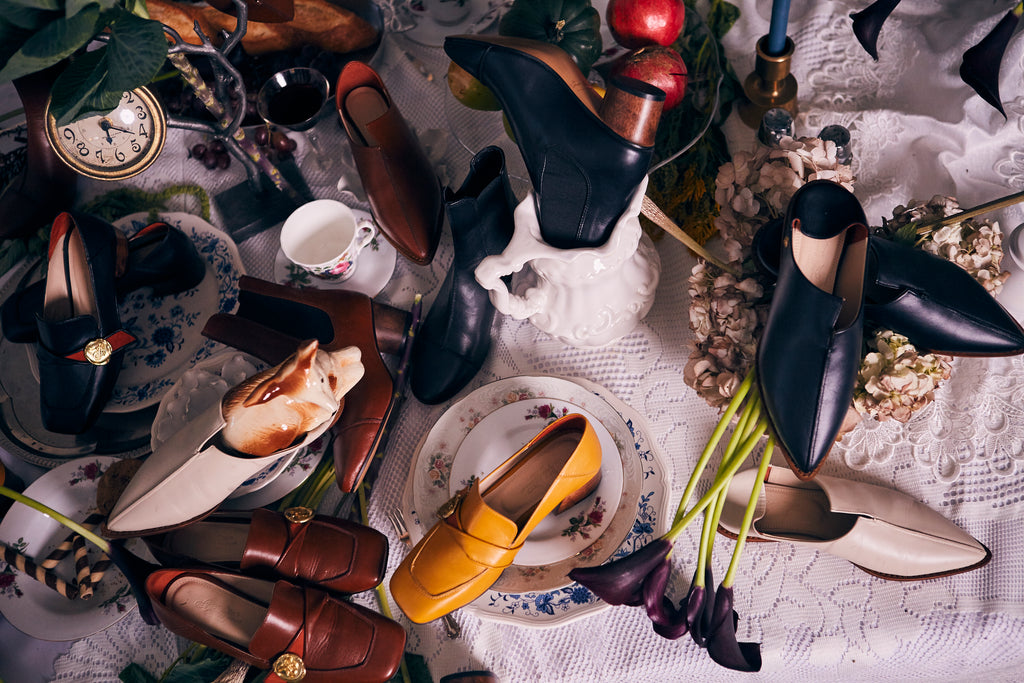 END OF THE YEAR IS NEAR
This holiday season, we wanted to flip the Hallmark dinner party on its head.
Lights, sleigh bells, Christmas carols and trees. Picturesque merriment splashed across tvs and played over sound systems in every store.
But, let's be honest, the holidays are stressful, angst-ridden, and anxiety-inducing.
Being stuck at a table with your politically-charged uncle, or cornered in the kitchen by your passive aggressive mother-in-law. Being charged with cooking dinner for 15 people, or buying presents for a seemingly endless list of friends and family.
The holidays are an ironic time where it's easy to lose yourself, to get swept away in the gluttony, the merriment, the generosity, the expectations, the conflicts.
A dinner party for one was our answer to this.
Starring the amazing, angelic actress Juno Temple, our dinner party features our AW '19 collection with feet on the table, fruit in the vases, flowers falling over, and cigarettes being smoked. A table of no expectations, where we can wear what we want, serve tea to our imaginary friends, and leave cookies out for Santa. A table where we can break dishes, eat dessert first, and spill our wine. Harking back to a simpler time, when we lived stress-free and believed that anything was possible.
Happy Holidays. May yours be filled with wanderlust and dreams.
Share:
September 18, 2018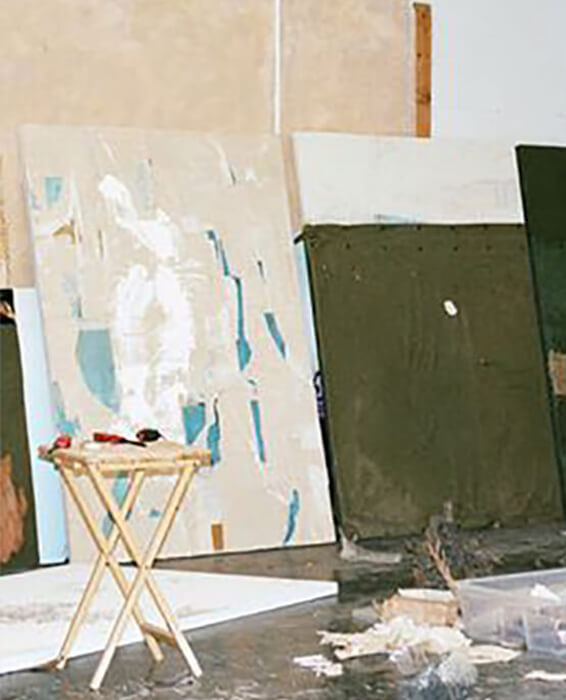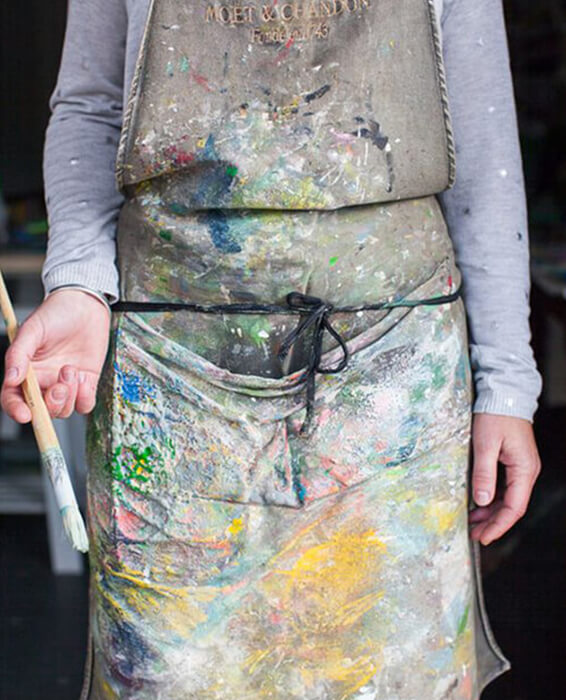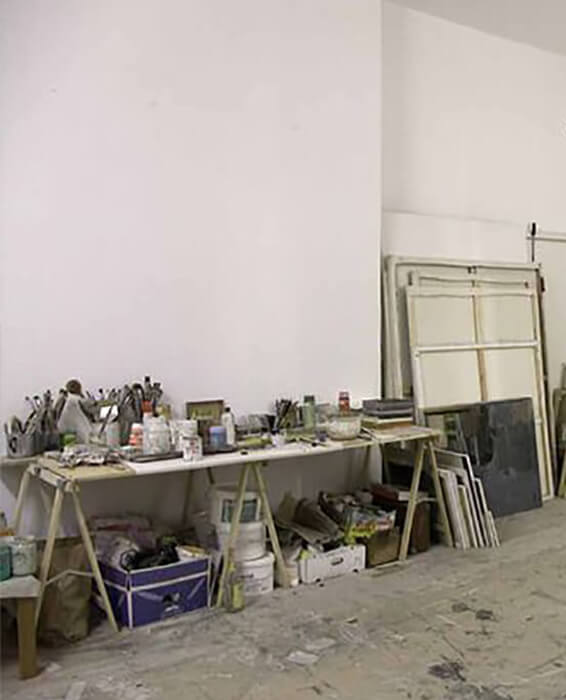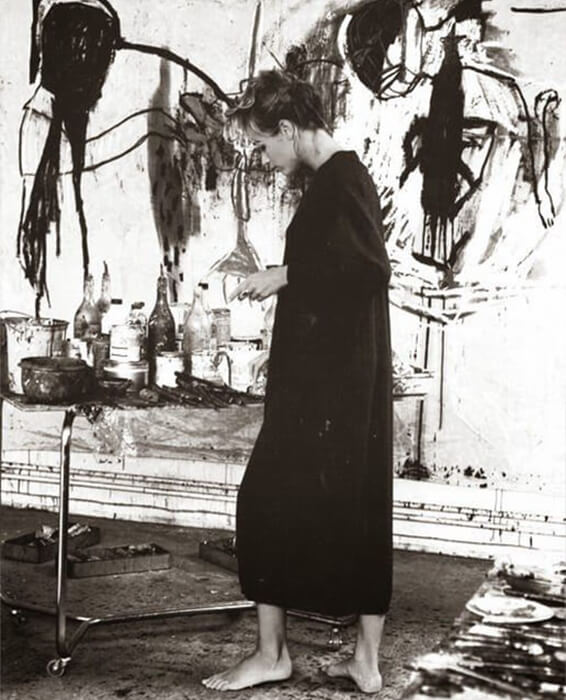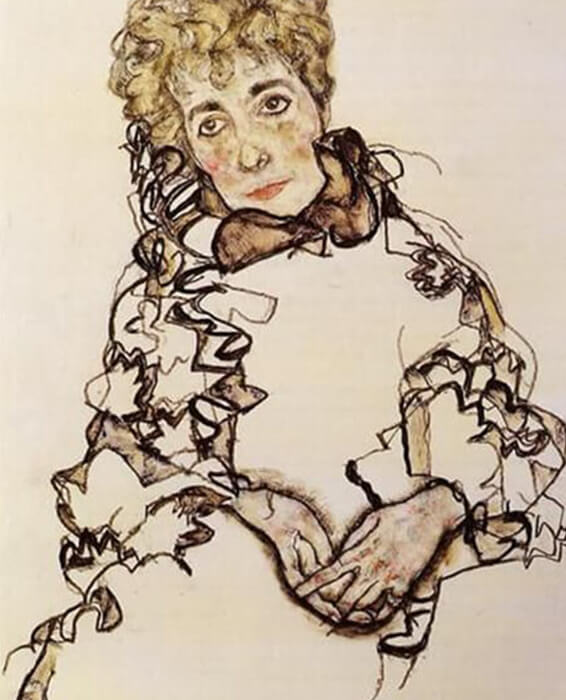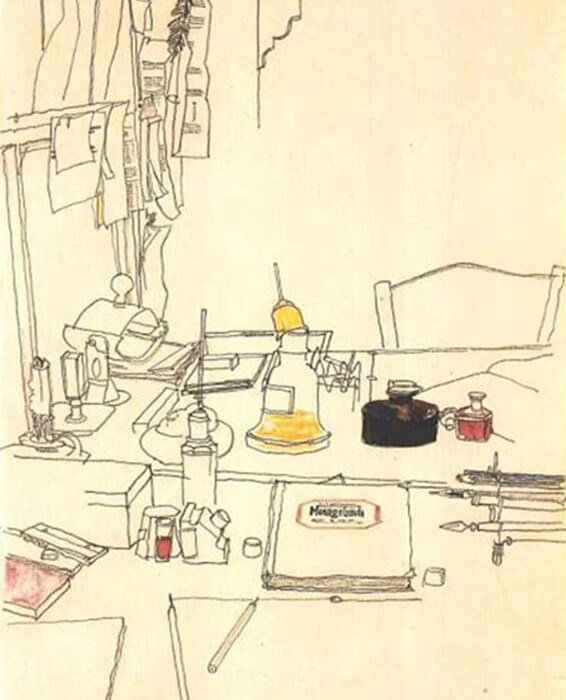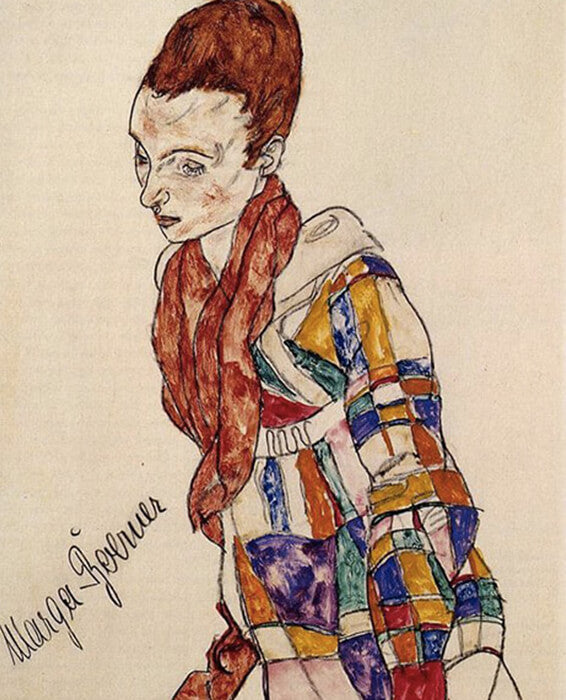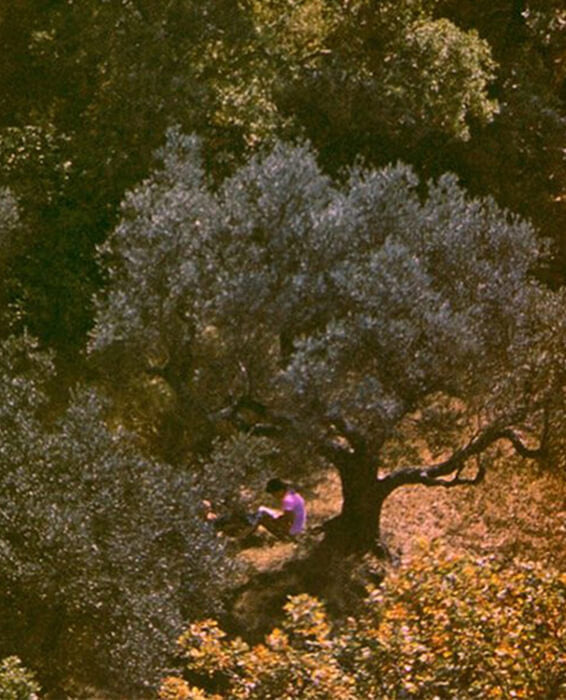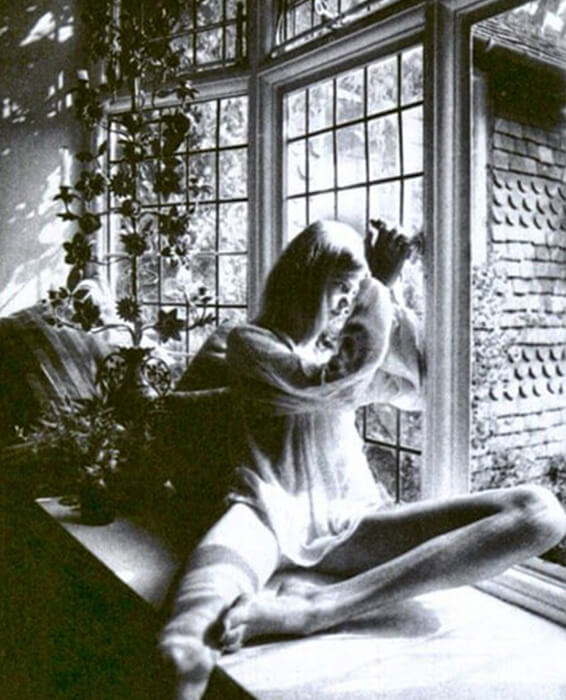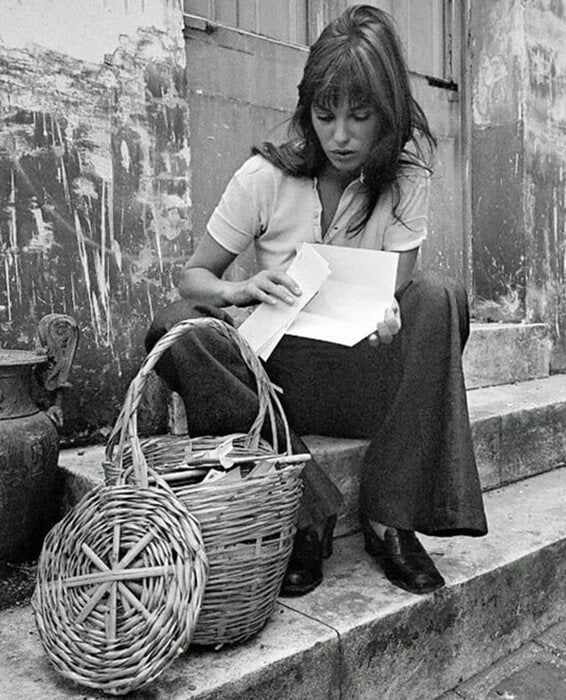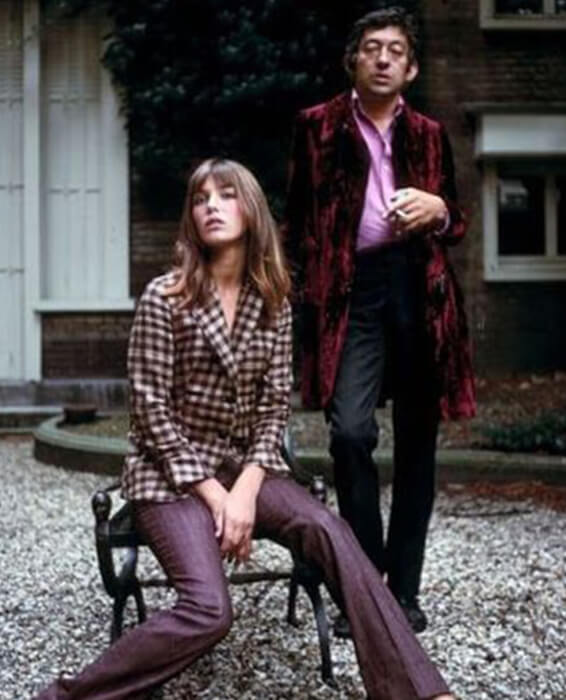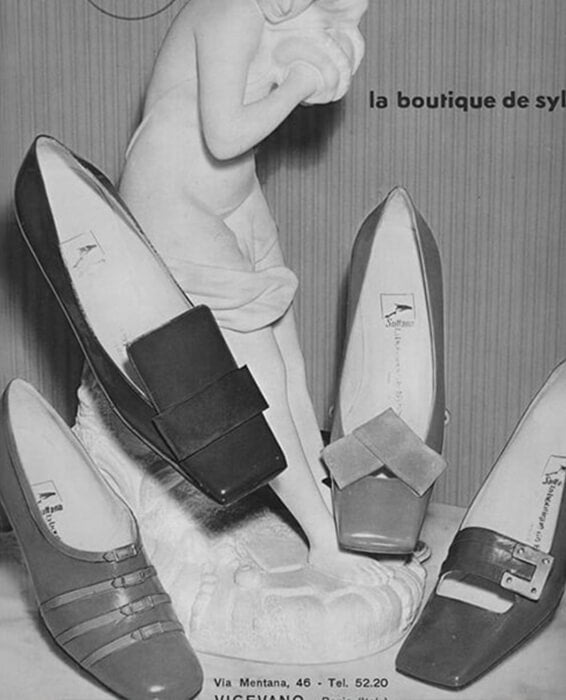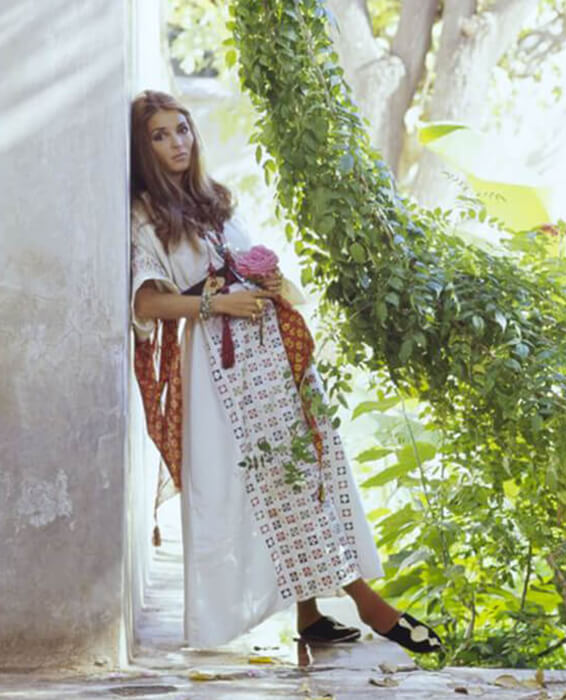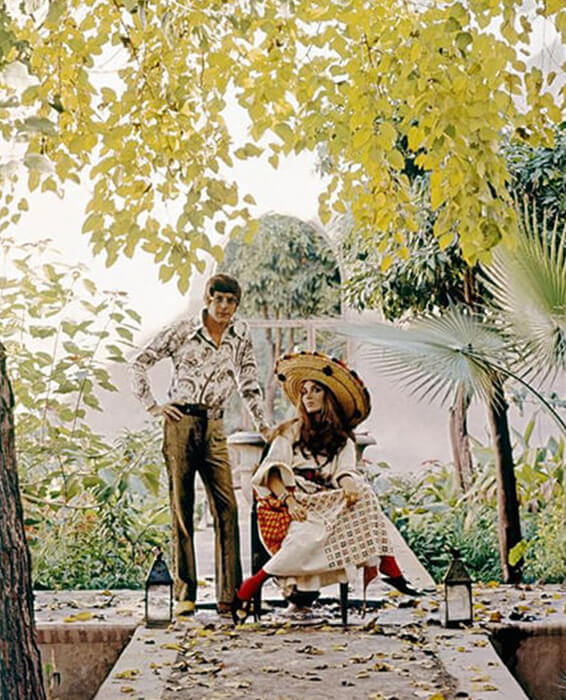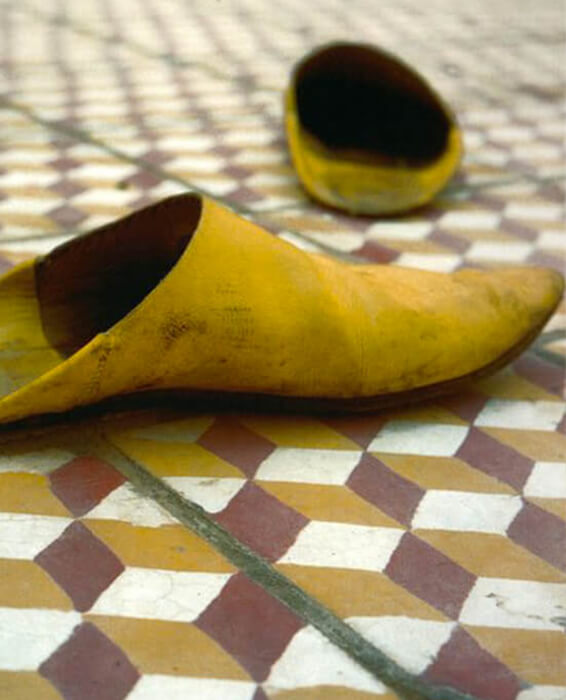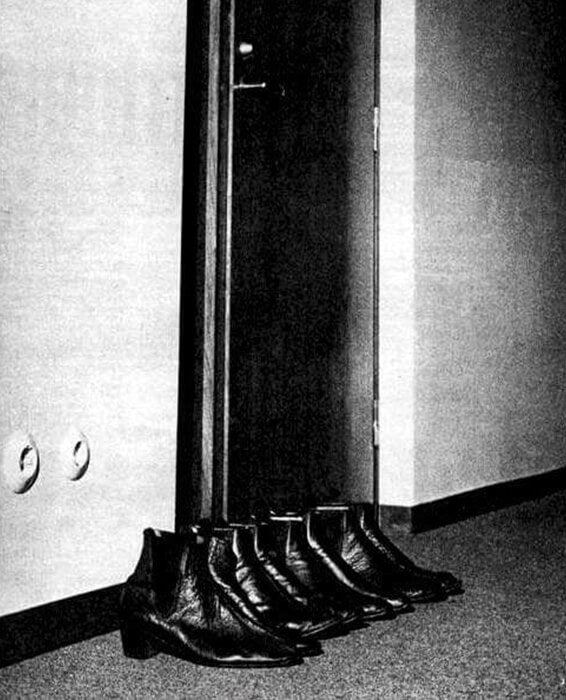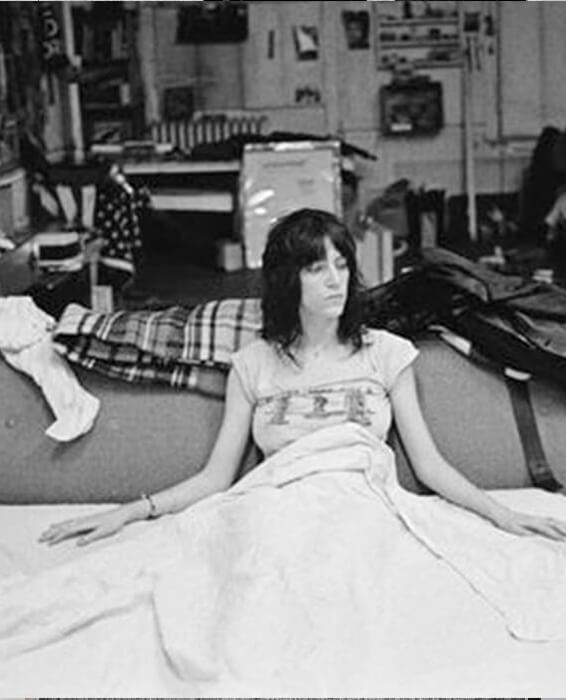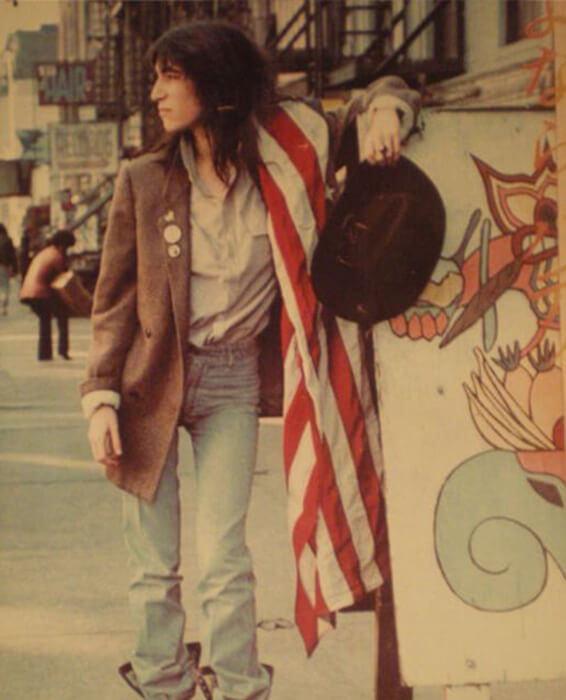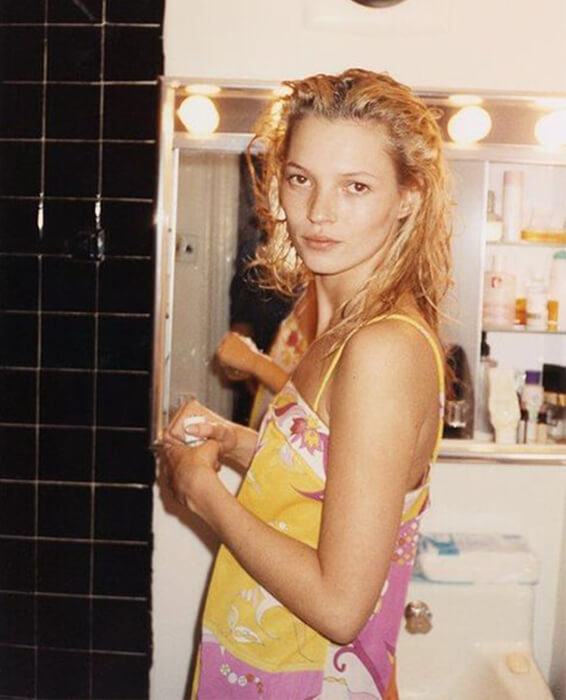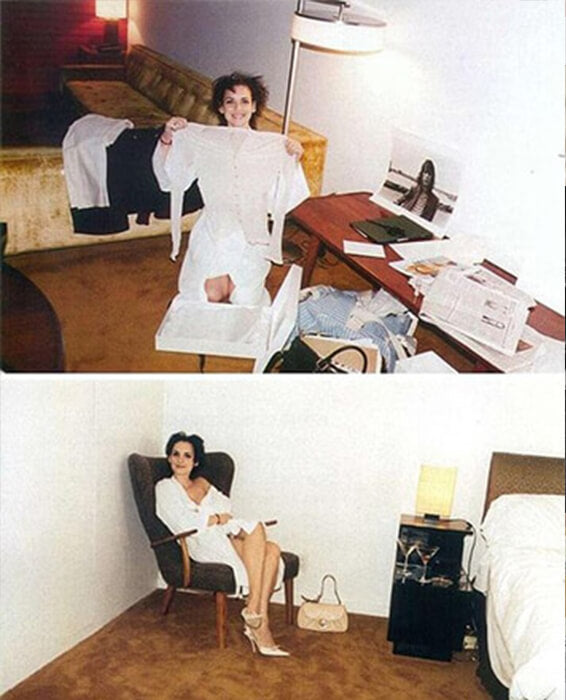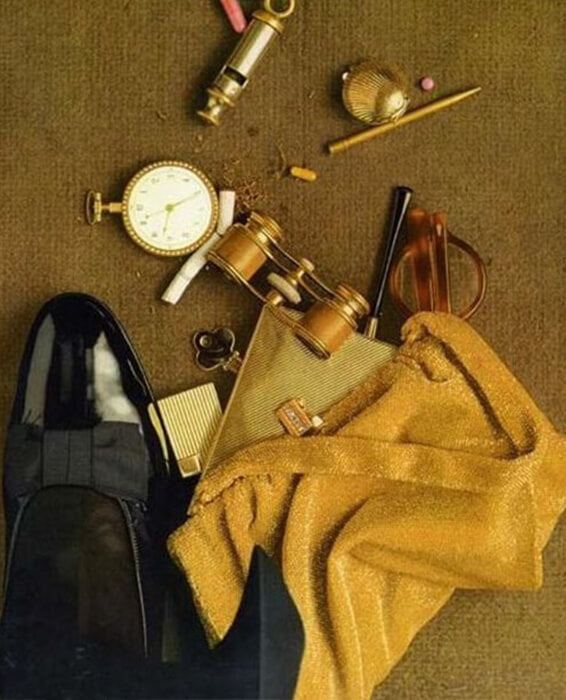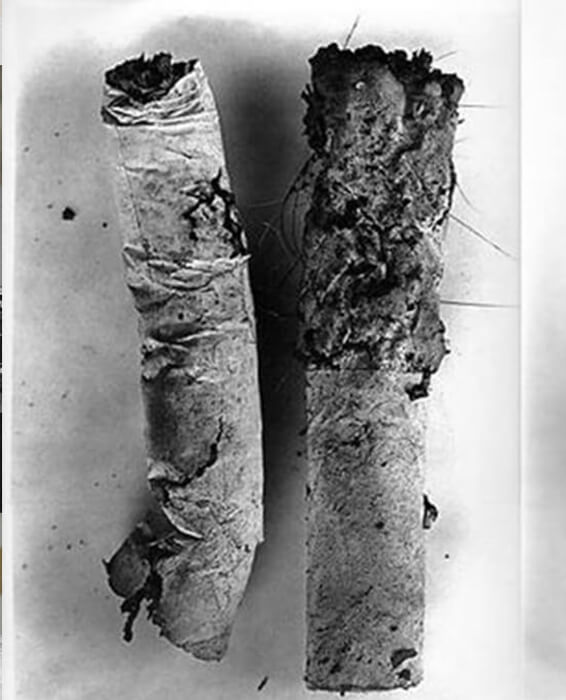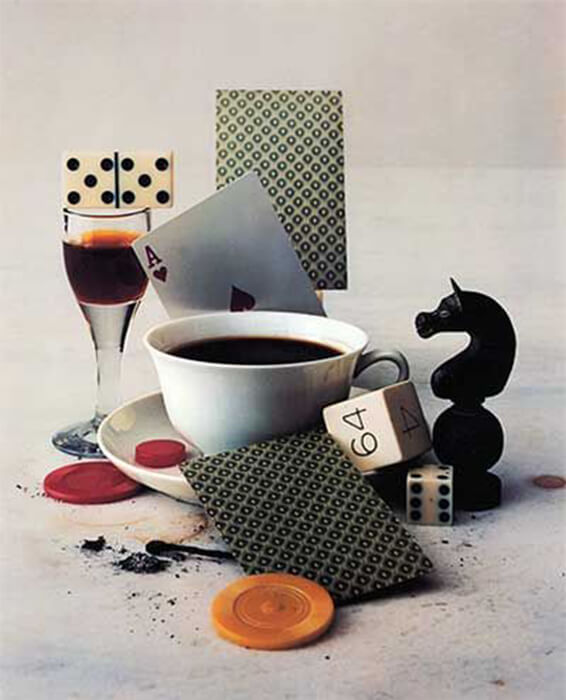 Artist in Studio
The place where artists go to find themselves and lose themselves. A setting for the imagination to run completely wild.
Autumn/Winter 2018 brought us both back into the studio after a creative hiatus, a much needed return to our artistic truths.
We drew inspiration from the 1960s and 70s, a distinguishing era of creativity, freedom of expression, and political activism. Through this lens we worked to capture the punk rock and bohemian spirit and style that had inspired us both for years.
We stumbled upon Austrian artist Egon Schiele's expressive renderings of the female form, and the moody, hazy 70s photography of David Hamilton, inspiring our color palette of mustard yellows, antique browns, bone whites, and blackest navys.
We pulled architectural design elements from Irving Penn's still life series, and were emboldened by Juergen Teller's strong use of flash to capture his subjects.
We channeled the spirits of strong female muses like Jane Birkin, Patti Smith, and Talitha Getty in designing our three signature styles.
This season was inspired by and is dedicated to the Artist, the one that lives inside each and every one of us and can return to the studio at any time.
Share: